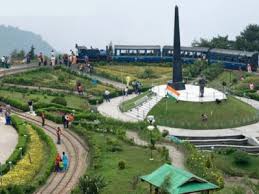 Overall Weather:- 18 Degree Celsius
Best Time To Visit:- Feb-March, Sep-Dec
Days to be stayed here:- 2-3 Days
Darjeeling, Popularly known as Queen of Hills!. It's a hill station with vast expenses of tea estates and Tibetan influence in their craft, culture and cuisine.
Darjeeling was previous summer capital of india under British Rule. Darjeeling is mostly known for its beautiful tea plantatations in India, its quality of producing. And it is a delight for all kinds of Tourist. And also a unique Toy Train was established in 1881 and UNESCO World Heritage sites.And also one of the best attraction, Kanchenjunga peak is clearly visible from here and you may enjoy a panoramic view of the peak. Also there are other attractions such as monastries, botanical gardens, a zoo, and the Darjeeling-Rangeet Valley Passenger Ropeway cable car which happens to be the longest Asian cable car. And you may also explore tea estates, villages, and markets.
What are there to attracts people around world!
1. Darjeeling Himalayan Railway:-
Cost:- Diesel Engines Rides: INR 6,00 onwards (All first class seats)
Steam Engine Rides:- 1,000 onwards (All first class seats)
2. Ghoom Monastery:-
One of the most famous tourism objects is Ghoom Monastery in Darjeeling. It is the oldest Tibetan Buddhist monastery in Darjeeling district. It is the perfect place for those who want to learn the history about the Tibetan Buddhist.
It may take some time to get to the original Ghoom, but after arrival, the scenery will never blink the eye. There is one thing that needs to be aware of, there is also monastery called Samten Choling Monastery that is also referred as Ghoom Monastery by the local driver. In order to visit Yiga Choeling or Ghoom Monastery, be clear and specific is a must. The thing that must be remembered is the original Ghoom Monastery in Darjeeling is located below the railway station.
3. Mahakaleshwar Temple:-
One's visit to this temple is not complete if one did not visit the Makahal cave. It is outside the temple complex, but rather very close to the temple. A visit to this cave is an experience that can last a lifetime. This is a place where one can have deep, sober reflection on other issues of life aside spirituality.It is a beautiful side attraction and a great place for religious buffs and tourists who choose to visit this religious enclave.If you want a place where you can make a request to the God; if you believe in the powers of prayers and serious about getting answers, in an enabling environment, then you must visit this place in question. One's expectations will be met.
4. The Tea Garden:-
The Tea garden in Darjeeling has gained much fame over the years for their serenity and beauty. And so of all the things to do, visits to the tea gardens are considered to be a must-do! It not only lets you experience the breathtaking beauty of the gardens but also offers the much-needed refreshing experience that you may need on your holiday.
Darjeeling is the best place to have such a wonderful experience, as there are about 80 Tea Gardens to visit and learn about tea varieties. You can take advantage of the vacation packages that these estates offer to make your holiday memorable.Thus, if you wish to enjoy your holiday most while in Darjeeling it is necessary that you have such a stay. You will come back cherished and refreshed after being amidst nature while being in the tea garden.
5. Batasia Loop:-
The Batasia Loop is located on Hill Cart Road (National Highway 55) in Darjeeling district of West Bengal, India. This Batasia Loop in Darjeeling was created in order to alleviate the steep gradient in the hills. It was engineered by the British in 1919 to negotiate the 140 ft drastic fall of the train. The track wraps around itself and overlaps through a tunnel and a hilltop. The train descends the height as it completes a loop in a large circular area, then goes to a gentle loop to cross over to its own track in the tunnel. This is considered as one of the greatest engineering feats.Just outside of the loop is the market area. The market mainly supplies merchandise that can be gifted as souvenirs. It boasts a number of wonderful, tasty and authentic North Indian, South Indian and Chinese restaurants. If you are in the mood for snacks, then there are numerous street stalls that sell piping hot samosas. So take some time off and plan your trip to this awesome place!
6. Padma Naiju Himalayan Zoological Park:-
With an average elevation of 7,000 feet, Padmaja naidu himalayan zoological park in Darjeeling offers an exciting trip experience for the visitors. The park was opened in 1958 and has been a home to different kinds of animals since. The park is popular as the breeding center for the animals that are adapted to live in alpine conditions. Different breeding programs have been successfully completed here. The park has handled The Red Panda Program and many others. Along with that, the park helps the endangered animals with these captive breeding programs.The zoo attracts tourists all year long. Some like to visit during the summers that are from April to June. On the other hand, couples love to spend time here during the winters, from October to December. Therefore, planning the visit depends on one's personal preference, the zoo offers exciting trip the whole year.Natural beauty and the beautiful animals, the trip to the zoo offers great experiences and memorable enjoyment. Capturing some incredible pictures that become precious memories of your trip to Darjeeling.